Lots of cryptocurrency exchanges target European customers, and BitLadon is one of such. The crypto exchange is an entity registered in the Netherlands, which speaks to its suitability for European customers.
One of the reasons why BitLadon is great for European customers is its enticing interest on stable coins.
If you have ever grumbled about the interest rate offered by banks, the 3% annual interest rate on offer at BitLadon will put a smile on your face. All you have to do is deposit stable coins like Dai, Tether, and others in BitLadon wallet, then get your interest daily.
Exchanges are often the target of attacks, so it's great to see that BitLadon supports the activation of 2FA activated for accounts on the exchange.
You'll also get notified with an email once you're logged in successfully. BitLadon isn't exactly new, but they have a stellar record in the security department – no hacks have been reported by the exchange.
Another area where BitLadon has an edge over the competition is its deposit methods. Though the crypto exchange does not support credit card deposits, you can use the wire transfer option to fund your BitLadon wallet.
And there's zero waiting time. Once the payment goes through, your BitLadon wallet is credited instantly.
Withdrawals are just as instantaneous, so you won't encounter delays in getting paid.
BitLadon also stands out for its large array of cryptocurrencies. The crypto exchange supports the trading of more than 166 cryptocurrencies, and more are continuously added regularly.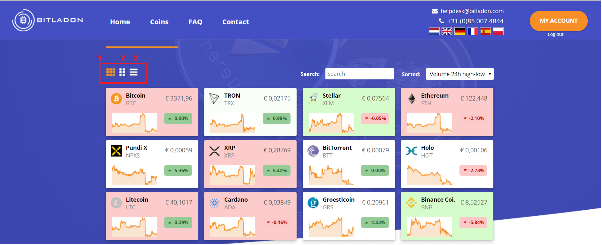 While most centralized exchanges allow trading of cryptocurrencies against bitcoin, stable coins, and ETH, BitLadon goes a step further by permitting the trading of any cryptocurrency against others. It's a novel feature that sets the crypto exchange apart.
The trading layout is simple, which should suit those just starting their trading journey. It's not busting at the seams with features, leaving a lot to be desired for experienced traders.

BitLadon trading fee is often considered steep, but there are discounts on trades done on the exchange. The discount offered is dependent on the volume of trade done. As you increase your trade volume, you get more trading discounts, which could be quite significant to make the trading fees negligible.
BitLadon is a crypto exchange that understands the yearnings of its European customers since it's based in the Netherlands. The centralized exchange is right up there with the best.